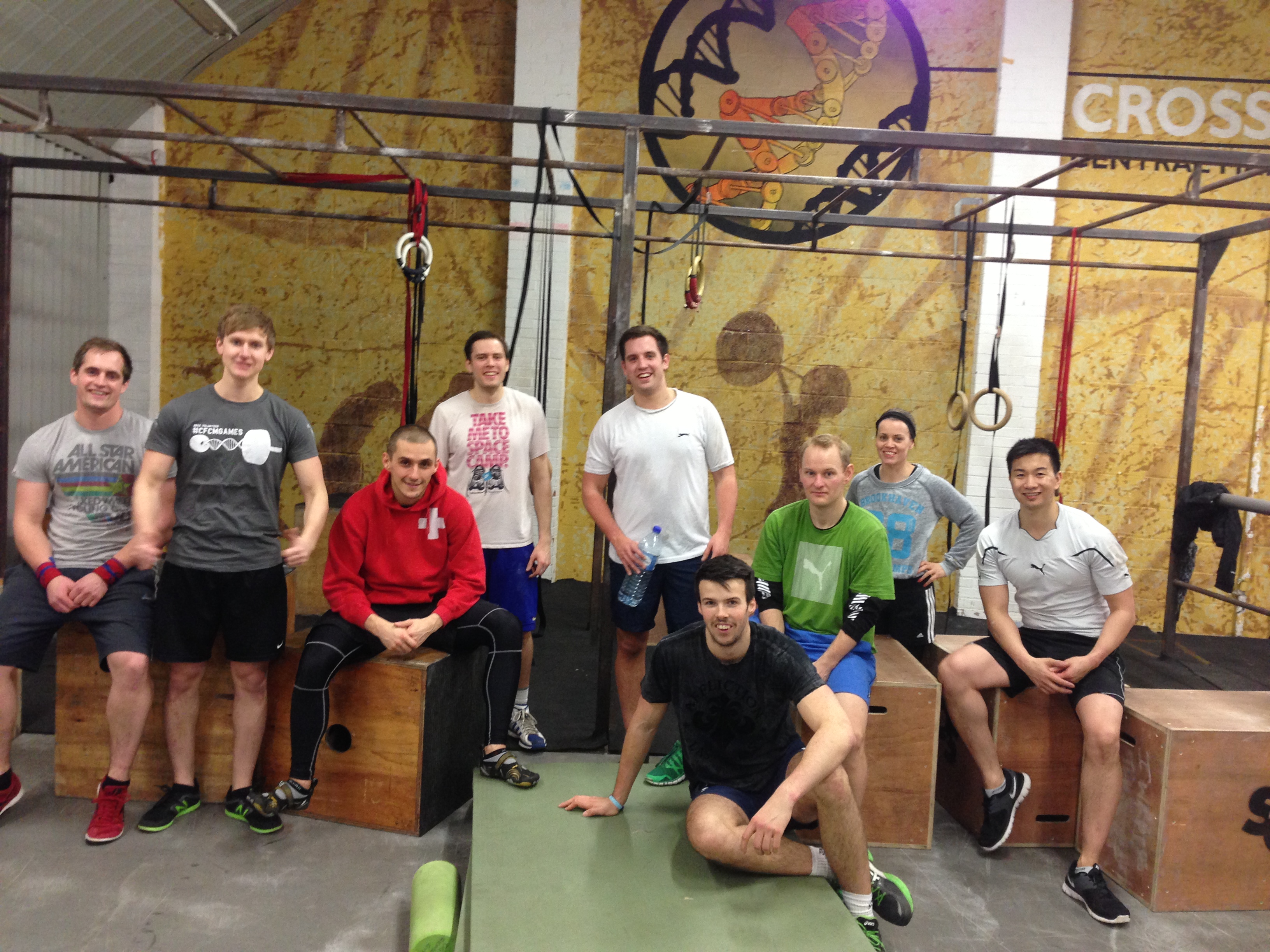 The guys and girls after taking on Disco 🙂
Skill
Technique work on;
– Squat clean
WOD
"Disco"
10 Rounds for time of:
– 50m Sprint
– 12 Double Kettlebell Cleans (24kg/16kg)
– 6 Double Kettlebell STOH (24kg/16kg)
– 50m Sprint
Each time the KBs are dropped the athlete will perform;
– 18 unbroken Double unders.
Disco's story
David De Souza (Disco) was working for private security company Aegis in Tikrit when he bravely intercepted a suicide bomber's vehicle as it sped towards his convoy.
Disco drove out of the convoy in his 4×4 to block the suicide bomber and to protect a company boss who was travelling in a vehicle in front of him.
He rammed into the suicide bomber's vehicle at high speed, smashing into it before coming off the road and rolling over six times.
The incident, on December 20, 2007, left Disco with a brain haemorrhage and a broken back.
He is now unable to work because of memory problems caused by his brain injury and is also suffering from post-traumatic stress disorder.
A year ago, the 36-year-old, who lives in Ashwood, Kearsley, was unable to run more than mile, but next month he will take part in Tough Mudder, a gruelling 12-mile obstacle course in Malpas, Cheshire, in memory of his niece, Maddie Rose Gooch.
Having spent many years as a Royal Marine, Close Protection Officer and Emergency Medical Technician I have been privileged to hear and witness many acts of courage. However, Disco's action on that day stand out as the most heroic that I have ever known. Disco instilled confidence into our team, safety and professionalism. Without him we would've been weak.
Next weekend he will yet again challenge himself, taking on a massive task. In order to support his cause we shall do what we do best…come together as a family, a community, to support his cause. Bring friends, family, anyone who will. When it hurts, think of him, he shall be thinking of Maddie Rose Gooch.
Disco, you are everything we strive to be. We will have you on our minds next weekend. It will be painful but you are as strong as you were when we were in the sand. Cross the line with a smile.
Maddie's story
THIS IS MADDIE'S JOURNEY……Maddie Rose Gooch was born at 2.53 am on Sunday 27th November 2011 weighing 6lb 11.5oz. She took us by surprise arriving on her due date, so much so that she arrived on our bedroom floor as an emergency home delivery!
Maddie was a very placid baby and in her short life of only 18 days only woke up once throughout the night for a feed.
In fact her lack of desire for her milk was the first sign we noticed something was wrong. On the night of Tuesday 13th December/ early hours of the morning of Wednesday 14th December, Maddie hadn't woken for a feed and we had to wake her up and give her some milk. Throughout Wednesday, although she was feeding she was only taking an ounce of milk before falling back to sleep.
After taking advice from the baby clinic, we mistakenly just thought that she was taking after her big sister in that she had a tiny tummy and would never be a big eater. Then on Wednesday evening, any desire for milk seemed to have disappeared and after speaking to a midwife at the hospital we decided to book an appointment at the Doctors for first thing the next morning.
We spent our last night up with Maddie cuddling her and attempting to get some milk into her before she fell back asleep.
Upon examining Maddie the next morning, our Doctor was unhappy with her breathing pattern and her colour and he made arrangements for the consultant at the observation and assessment unit at Tameside hospital to examine her. At this point we knew Maddie wasn't well but not in our wildest dreams did we expect events to happen as they did.
As soon as Maddie arrived at the hospital at approximately 1.30pm, she was put on oxygen to regulate her breathing whilst they performed tests to try and establish what was wrong with her. We felt like we were watching a tv programme because this only happened to other people, or so we thought.
Unable to identify any issues with the standard tests, it was only after an MRI scan was performed that it was discovered that she had something seriously wrong with her heart. Unable to diagnose her heart disease at Tameside Hospital they arranged for her to be transferred to the paediatric intensive care unit at Alder Hey Children's hospital in Liverpool.
We thought that we had already received the worst news in that she had a very rare heart condition that would need operating on for her to have a chance of living. Little did we know what was to come.
Once the consultant from the North West Transport Services arrived who would transport Maddie to Alder Hey whilst on life support, it was decided that she wasn't responding quickly enough to the drugs they were administering. It was whilst they were trying to get a line into Maddie's neck to administer the drugs more quickly, that she had her first cardiac arrest. She was down for 25 minutes. Maddie had a further two cardiac arrests each for 5 minutes and it was now a fight to keep her alive and get her stabilised for transportation to Alder Hey.
Eventually after what felt like forever, the fantastic team got Maddie into the ambulance and we were on our way to Alder Hey where a team including the Paediatric Consultant and Cardiologist Consultant were waiting for us.
Our next fear was that Maddie would arrest in the ambulance, however she hung on throughout the 50 minute journey.
When we got to Alder Hey at approximately 9pm that evening, the specialist immediately scanned her heart to find out what was wrong. During those long moments and despite the Cardiologist consultant having his back to us we could tell it wasn't good news. We realised our darkest fear, we were going to lose her.
They took us to a private room to give us the devastating news. Maddie had severe congenital heart disease – double outlet right ventricle and severe pulmonary stenosis, amongst other heart defects that they had also identified. It was whilst we were receiving the heartbreaking news that there was no hope for our baby girl, that we were quickly interrupted, Maddie was in cardiac arrest again……………it was time to say our goodbyes.
Maddie was in our arms when she finally passed away at 9.55pm on Thursday 15th December 2011.
Despite being graced with Maddie's presence for only 18 short days, our lives have been irretrievably upturned. We have lost a quarter of our family. Although Maddie's footprints were tiny, she has left huge footprints on our broken hearts. With every beat of our broken hearts we miss her.
We wanted to tell our story in the hope that this will raise awareness of undetected heart defects and that if everyone who our story has touched could donate as little as a pound, it will help the babies and children who suffer similar diseases in the future. Please help to ensure Maddie's life was not in vain.