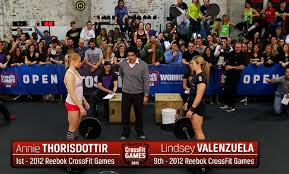 Last year Anie Thorisdottir and Lindsey Valenzuela went head to head in this workout!
REGISTRATION for the CrossFit OPEN opens TODAY!! 
SKILL
10 minutes on each, improving movement in the Shoulder to Overhead and the Deadlift.
WOD
13.2 – Open workout from 2013

AMRAP in 10 minutes, of;
– 5 Shoulder to Overhead (35kg/52.5kg)
– 10 Deadlifts (35kg/52.5kg)
– 15 Box Jumps (20"/24")
Note:
– Only 1 barbell is used in this WOD

Mobility and Stretch!
POST SCORES TO COMMENTS